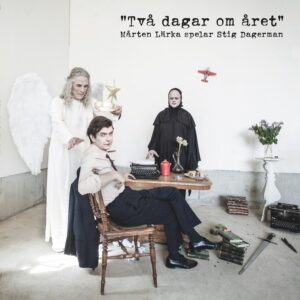 And so the release day has finally come. The new album is out on the platforms!
Down below is the press release message (in Swedish) from the music label COMEDIA.
"Två dagar om året" – Mårten Lärka spelar Stig Dagerman
Idag släpps Mårten Lärkas nya album "Två dagar om året" – Mårten Lärka spelar Stig Dagerman med tolv låtar baserade på texter av Stig Dagerman.
Albumet släpps både digitalt och på vinyl.
5:e oktober i år skulle Stig Dagerman fyllt 100 år. Om man skrivit Bränt barn, Ormen, Tysk höst, De dömdas ö, Nattens lekar och hundratals dagsedlar, så får man nästan skylla sig själv. Vips kommer det en egensinnig indietrubadur och gör biblioteksrock av alltsammans.
Avslutningsstycket i Tysk höst har blivit till krautrockpastischen Vi flyger över Bremen. Nästan hela första sidan ur Bränt barn blev till albumets öppningsspår Den vackra systern. Den tomma rustningen är hämtad ur vansinnesskildringen De dömdas ö och har kokats ner till en besvärjelseblues med Captain Beefheart-ambitioner. Singelsläppta En dag om året är indiepop som för tankarna till Gyllene Tiders Farfisa-hits och klockar in på klassisk Ramones-tid, d.v.s. strax under två minuter.
Däremellan ryms sockriga visor, valser och punkiga popnerver.
Inspelningarna och mixningen har gjorts i legendariska Tambourine Studios i Malmö.
I början av 00-talet påbörjade Mårten Lärka sin bana inom visgenren, för att därefter utvecklas till en indietrubadur med franska texter varvade med svenska, tyska och engelska. Att tonsätta Stig Dagermans pulserande material känns som ett naturligt steg. Spretigt, valsigt, poetiskt, punkigt, svart, vitt, grått och rosa.
Trots att Mårten Lärka sjunger på svenska så har han med sina två föregående singlar från albumet även väckt uppmärksamhet i bl.a Storbritannien, Tyskland och Frankrike. Så här skriver t.ex den tyska (!) musikbloggen Global Texan Chronicals:
"Are you one of those naysayers who think music isn't a gateway to other art forms? A simpleton you'll be no more as one of our favorite avant-garde pop/rock purveyors Mårten Lärka has an ode to the famed (yet new to me and probably you) Swedish poet, Stig Dagerman. "En dag om året" (One Day a Year), a poem/song released into the wild in 1954 finds new life as a jaunty rock song at the hands of Lärka and his crew of merrymakers. Swirling Farfisa Foyer, 1960s backbeat and a word-for-lovely-word vocalizing of the poet's cherished words. Go on, sing along…"
Även i England har Mårten Lärkas Dagerman-tolkningar uppmärksammats:
"…simple, immediate, attention-grabbing, unconventional and catchy."
(Nordic Music Central / UK)
Här i Sverige har musikbloggen Skrutt Magazine redan hunnit recensera albumet.
"En blandning av Olle Ljungström och Håkan Hellström… Jag gillar det mer och mer för varje låt… Lite lagom galet… Jag får en känsla av att detta skulle passa på en cirkus eller rättare sagt på ett gammeldags tivoli – fråga mig inte varför!"
Peter Thorsson / Skrutt Magazine