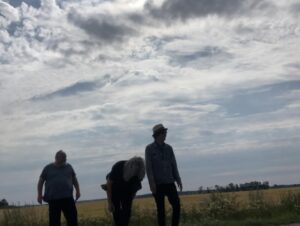 2022 was a horrible year to the world, even worse then the previous two. But on a personal level; in the name of making art, music, joy, love and freedom, it was terrific in many ways. The 20th anniversary, for celebrating my two decades as a solo act, at Hembygdsgården in Jättendal, was un unforgettable evening to be Mårten Lärka. With a great little help from my friends we suddenly hit the road again.
Several recordings finally saw their releases during the year. Not to forget mentioning the music video "Robot 22", after five years in the vault.
I started mixing in a completely new music studio as well. I also commenced a collaboration with another music label, for the first time.
I aim to make 2023 the best I can for being something similar. It is no secret that the tape recorder is repaired and we are currently working again, with the recordings that stopped in April 2021.
All the best to all of you and a very Happy New Year!
/Mårten
A very specially thanks to Frida Bergström, Martin Hellquist, Lars Ohlsson, Daniel Johnston, Henrik Heinrich, Claes Olson, Anders Bodin, Pär Wickholm, Calle Bernmar, Clara Elmén, Märta Olsson, Mikael Svensson, Pierre Chandeze, Anna Selander, Sven Weiß, Zaravinda von Rosen, Martin Berger, Niclas Vallin, Isak Edh, Hamid Khodja and Gunilla Wenngren.